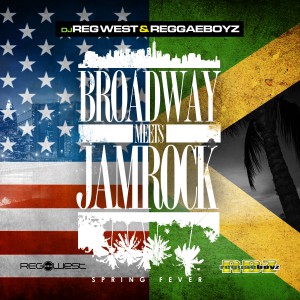 Click the image for the download
DJ REG WEST & MISHIGAN OF REGGAEBOYZ SOUND ARE PROUD TO PRESENT BROADWAY MEETS JAMROCK. THE JOINING OF 2 WORLDS OF MUSIC ON ONE COMPILATION CD. THIS CD SERIES WILL OFFER A WIDE RANGE OF MUSIC WITH EACH EPISODE RANGING FROM HIP HOP, R&B & POP TO REGGAE & DANCEHALL BEING PLAYED IN AUTHENTIC STYLES BY TWO DJ'S WELL VERSED IN THESE GENRES. WE HOPE YOU ENJOY THIS COMPILATION AS WE TAKE YOU THROUGH A MUSICAL JOURNEY.
For Itunes users click here for the FREE download of the compilation as one solid track:
http://itunes.apple.com/us/podcast/broadway-meets-jamrock-spring/id411291110?i=115067645
Everyone else that is looking for separated tracks can download here:
http://www.sendspace.com/file/s0fl9m
If you like what you hear let the world know.. just when you do, make sure to @ us!