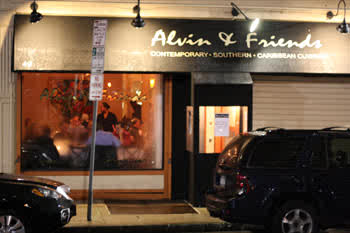 Twenty-five minutes north of New York City is a cozy restaurant with a background of fine cuisine and the arts. Alvin & Friends, owned by Alvin Clayton adds an elegant touch to the combination of Southern and Caribbean Cuisine; dishes pack a mouthful of flavors of a wide variety. In addition to the intimate seating, the restaurant has a sit down bar if one wishes to enjoy a drink and an appetizer instead of a full entree.

Clayton, jack of all art trades, is a model featured in magazines such as GQ, Vogue, French Vogue, and Ebony Man. If that isn't enough, Clayton is also a post-impressionist artist known to portray landscapes and Jazz musicians. Amongst his list of patrons are Denzel Washington, Halle Berry, and Robert De Niro. Incorporating the different aspects of his life, Clayton includes his art in the décor of the restaurant.
The Chef, Raymond Jackson jumpstarted his career working with Emeril Lagasse in New Orleans, and at Blue Smoke in Manhattan.
The New York Times raves, "You may not enter Alvin & Friends as one of the pals of the owner, Alvin Clayton, but by the time you leave, you're likely to feel that you've become one."
Alvin & Friends Restaurant
49 Lawton Street, New Rochelle, NY
www.Alvinandfriendsrestaurant.com
Post by Kristie P